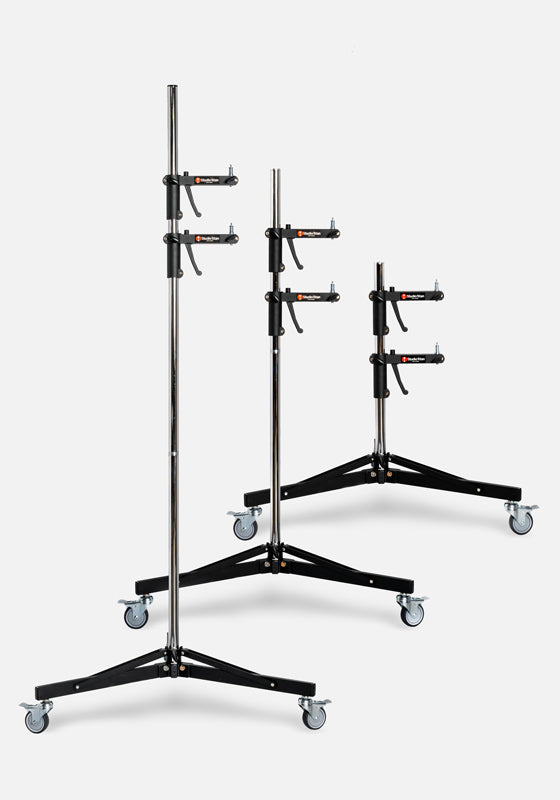 Studio Camera Stand Portable Side Kick 3-section STA-06-093D with Dual Pistol Grip
DUAL PISTOL GRIP VERSION
The STA-06-093 3-section portable side-kick is a Premium Stand designed for the Professional Photographer and engineered for daily use. The portable side-kick is supplied with a sturdy nylon carry bag and features separate zippered storage compartments for each component.  The portable side-kick column was designed for quick and easy tool-less set-up.  The self aligning column fastening system is simple and only requires a few turns to assemble.  No special set-up tools are required, which makes it very easy to set-up in dimly lit locations!  It rolls through a doorway and weighs only 7Kg/15.5 lbs., the pistol grip weighs an additional 1.5lbs.  The column material is made of STEEL not Aluminum. The side-kick provides a payload capacity of 20kgs/44lbs, which is more than double when compared to other portable stands on the market.  Stands with Aluminum columns dent, ding and scratch more easily when compared to STEEL. STEEL is stronger, 2.5 times more dense than Aluminum, less likely to warp, deform or bend under weight and force. The heavy-duty Pistol Grip Platform with attachment spigot / stud, easily guides a Camera or Strobe up or down the column.  The heavy-duty Pistol Grip includes two locking knobs. The first locking knob prevents unwanted vertical movement when set. The second locking knob secures the attachment stud.  When the center column is set to the lowest position or in "Parking Mode" the side-kick remains stationary on a flat surface without locking the casters.  Use "Parking Mode" when small movements are needed to find the best shooting position.  The perfect portable stand for fashion, portrait and event photography.  TWO heavy-duty Pistol Grip platforms with attachment studs are  supplied with this version.   Additional heavy-duty Pistol Grips are sold separately for camera + strobe or dual strobe or laptop holder configuration.
Some assembly is required, please review the set-up & use manual.
Includes essential tools required to complete assembly.
Precision-manufactured with attention to detail. 

Low center of gravity base. 
Premium Dual Stage casters provide easy movement around the studio. The dual-stage foot brake stops both the wheel from rotating and the caster housing from swivelling, preventing unwanted movement.   
Maximum evenly distributed load on level ground: 20kg/44lbs
• Total Height : 199cm / 78.5"  in
• Working Height Maximum : 198cm / 78 in (measured from top of PISTOL GRIP to floor) 
• Working Height Minimum : 31cm / 13.5 in (measured from top of PISTOL GRIP to floor)  
• Shaft Diameter : 35mm / 1.378 in (material: Steel)
• Weight Stand - Pistol Grip : 7kg / 15.5 lbs  -  0.7kg  / 1.5 lbs
• Suggested Wheels : 01-090-20-023
• Base column section approx. height : 710mm / 28 in 
• Middle column section approx. height : 590mm / 23.25 in
• Upper column section approx. height : 590mm / 23.25 in 
• Base Diameter :100cm / 39.3 in
• Recommended General load capacity : 20kg (44lbs)
• Camera Attachment Stud : 3/8th inch - 16 thread  
• Pistol Grip : distance from center of vertical column to center of Spigot: 19cm / 7.5 inches  
Options:
-Second heavy-duty Pistol Grip Platform with attachment spigot / stud
-Small accessory shelf STA-01-397U for notebook computer 
-Ball head mounting plate 3/8th thread STA 20-045
-Camera mount plate 1/4" x 20 thread STA 20-045D
-STA-01-390 3-way head
Studio Titan reserves the right to make product changes and improvements as required. As a result, the product supplied may not be exactly as pictured or specified.  
Intended use:
This product is intended for use by:
1. Professional and commercial photographers.
2. Technicians and quality control personnel. 
This product is intended for use in a studio, lab or manufacturing environment indoors on a floor that is smooth, hard, flat and unobstructed.  Please refer to the products set-up and use manual for detailed information regarding intended use, set-up guidelines and instructions. When assembly is required, we recommend using an assistant during the initial product set-up.
Assembly Instructions are inside the package. If the assembly instructions are missing or you do not fully understand the instructions stop the assembly and consider the following resources. Visit the "SETUP" area of the website for documentation. Email questions to STA or contact Studio Titan America by phone for further assistance.
* Camera and head not included 
* Includes only one 3-section stand 
Materials composition:
-The Vertical column is made of steel.  The Pistol Grip is made of aluminum alloy.  The nuts and bolts are made of stainless steel. The casters are made of polyurethane. This product does not contain lead.
PACKAGING with Recyclable Materials:  Studio Titan respects the environment.  When selecting packaging materials, Studio Titan prefers using materials that are recyclable to reduce the environmental impact of its packaging.  The column box blue outer plastic material is Polypropylene, abbreviated as PP, is a recyclable thermoplastic polymer widely used in many different products. PP is rugged. PP's resin identification code is 5, and it is recyclable.  Product boxes and protection edges are made using corrugated cardboard which can be recycled at depots, in municipal curbside collection programs and through private recyclers.  Internal securing foam blocks are made of PE (Polyethylene Foam) – Recyclable. Polyethylene foam products are 100% recyclable. Plastic bags are made of LDPE (Low-Density Polyethylene) – Recyclable plastic (check Local Authority) LDPE can be recycled. However, check with your Local Authority to ensure it is recycled in your area. This is described as a hard flexible plastic. LDPE's identification code is 4 and it is recyclable. Yellow plastic strapping is made of PET (Polyethylen-terephthalat) – Recyclable. It is fully recyclable and commonly used in logistics. 
Recycled Materials used inside the products:  Studio Titan respects the environment.  When manufacturing products, Studio Titan prefers using raw materials that are mixed with recycled materials to reduce the environmental impact of the products. For the Aluminum components: Vertical column, Horizontal column, Legs, Die cast carriages, base, cap and head-mount plates. The typical percentage of recycled aluminum metal to raw aluminum metal is 70% recycled to 30% raw.  This globally adopted ratio provides good strength and finish.  For the Steel components like: circular or square columns, hardware, casters, gears and counterweight. We have confirmed that the steel is made up of recycled materials combined with raw materials.  We are not able to provide the actual percentage of recycled to raw on these components. Each product uses a different ratio based on its particular end use.