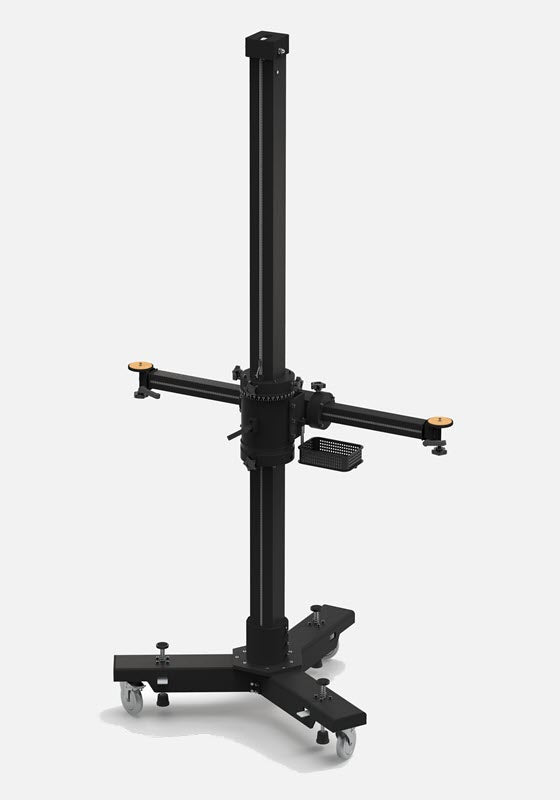 Super Commercial Studio Camera Stand STA-01-500 (Rotation) FREE U.S. shipping on this Item!
The STA-01-500 Super Commercial Stand is used in large scale commercial studios and photogrammetry applications. The STA-01-500 Super Commercial Stand uses an oversized vertical column design and provides a working height of 270cm / 106 inches.  The vertical carriage is designed to allow the horizontal arm to freely rotate, 360 degrees, around the vertical column while the base remains stationary.  The stand weighs 115kg/253lbs and the base is heavily weighted for added stability.
The Camera Head Mount Plates are user adjustable and provides a range of:  0 - 360 degrees.  
The STA-01-500 Super Commercial Stand is requires assembly.       
The STA-01-500 Super Commercial Stand is available by pre-order with a 16-20 working week lead time.  Please email for availability.  It is packaged in a wooden shipping container and is delivered by truck to your location.  Unless special delivery and off loading requirements are arranged in advance.  The container will be delivered to your shipping dock or dropped off as close to the entrance of your facility as possible.  Please contact us by email for pricing based on special delivery and off loading requirements. 
Precision Manufactured with attention to detail using CNC machinery. 
Smooth motion bearing on Z and Y columns with secure axis lock. Circular Vertical column provides free rotation of horizontal axis.  
Counterweight in center column allows single handed operation. 
Low center of gravity base.
The foot operated brake plungers provide quick operation and prevent movement on flat surfaces.
• Total Height : 300cm / 118.11 in
• Working Height Maximum : 270cm / 106.29 in (measured from Camera Plate to floor) 
• Working Height Minimum : 50cm / 19.7 in (measured from Camera Plate to floor)
• Working Width Horizontal : 133.5cm / 52.5 in (center of Column to center of Camera plate)
• Width : 150cm / 59.05 in
• Weight : 115kg / 253lbs
• Suggested Wheels : 01-500-20-024
• Base Diameter :100cm / 39.3 in
• Recommended General load capacity : 25kg (55lbs)
• Camera Plate Hardware: 3/8th inch - 16 thread
• Includes two Camera Head Mount Plates and Basket as shown
• Caster wheel diameter: 127mm / 5 in

Terms of Sale:  This product is final sale, no cancelation, no returns 
Lead Time: 16-20 working weeks ARP + holidays 
Options:
-Large accessory shelf STA-01-395 for notebook computer
-Small accessory shelf STA-01-397A for notebook computer
-STA-01-390 3-way head
Studio Titan reserves the right to make product changes and improvements as required. As a result the product supplied may not be exactly as pictured or specified.
Intended use:
This product is intended for use by:
1. Professional and commercial photographers.
2. Technicians and quality control personnel. 
This product is intended for use in a studio, lab or manufacturing environment with a high ceiling, indoors on a floor that is smooth, hard, flat and unobstructed. It is designed to be used at all times with a load (Camera or laptop or both).  Please refer to the products set-up and use manual for detailed information regarding intended use, set-up guidelines and instructions. When assembly is required, we recommend using an assistant during the initial product set-up.
Assembly Instructions are inside the package. If the assembly instructions are missing or you do not fully understand the instructions stop the assembly and consider the following resources. Visit the "SETUP" area of the website for documentation. Email questions to STA or contact Studio Titan America by phone for further assistance.
Material composition:
The Vertical and Horizontal columns are made of aluminum.  The counterweight is S20C steel.
The nuts and bolts are made of steel.  The casters are polyurethane. This product does not contain lead.
Note: Due to this products large size and specific packaging and handling requirements it is sold as "non returnable". 
Recycled Materials used inside the products:  Studio Titan respects the environment.  When manufacturing products, Studio Titan prefers using raw materials that are mixed with recycled materials to reduce the environmental impact of the products. For the Aluminum components: Vertical column, Horizontal column, Legs, Die cast carriages, base, cap and head-mount plates. The typical percentage of recycled aluminum metal to raw aluminum metal is 70% recycled to 30% raw.  This globally adopted ratio provides good strength and finish.  For the Steel components like: circular or square columns, hardware, casters, gears and counterweight. We have confirmed that the steel is made up of recycled materials combined with raw materials.  We are not able to provide the actual percentage of recycled to raw on these components. Each product uses a different ratio based on its particular end use.