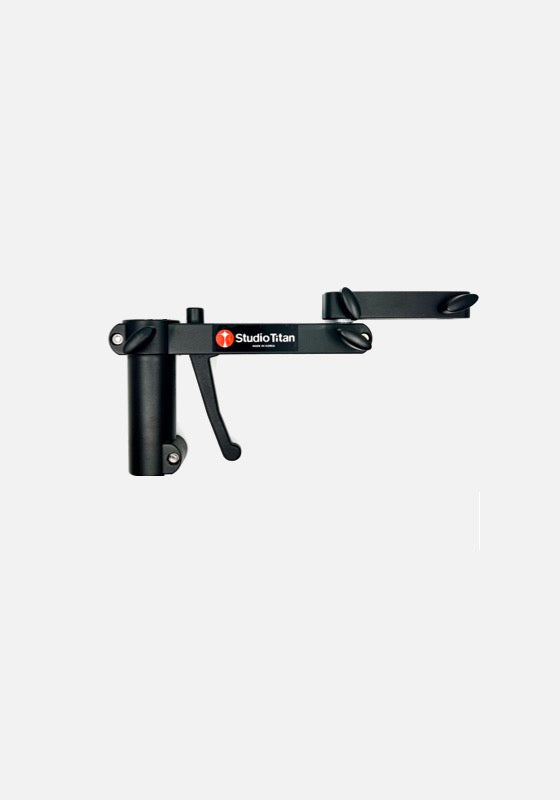 Pistol Grip Extender - STA-06-092EXT
The STA-06-092EXT is used to extend the length of the STA 06-092 pistol grip by 100mm / 3.9 inches.  It includes two knobs and 3/8th inch spigot with flats as pictured.  The flats allow the extender to be secured and remain parallel with the arm during use. 
• Overall Length / (Distance Between Mounting holes) :  140mm / 5.5 in ( 100mm  / 3.9 in )
• Overall Height / (Depth) : 25mm / 0.98" / (35mm / 1.37 in ) [material: Steel]
• Distance from center of vertical column to spigot in Extender : 290mm / 11.4 in
• Weight : 0.3kg / 0.69 lbs     
Note: Pistol Grip STA 06-092 & Ball Head Plate STA 20-045 shown in images are not included with the STA-06-092EXT extender.
Studio Titan reserves the right to make product changes and improvements as required. As a result, the product supplied may not be exactly as pictured or specified.
Intended use:
This product is intended for use by:
1. Professional and commercial photographers.
This product is intended for use in a studio, lab or manufacturing environment with a high ceiling, indoors on a floor that is smooth, hard, flat and unobstructed.  Please refer to the products set-up and use manual for detailed information regarding intended use, set-up guidelines and instructions. When assembly is required, we recommend using an assistant during the initial product set-up.
PACKAGING with Recyclable Materials:  Studio Titan respects the environment.  When selecting packaging materials, Studio Titan prefers using materials that are recyclable to reduce the environmental impact of its packaging.  The column box blue outer plastic material is Polypropylene, abbreviated as PP, is a recyclable thermoplastic polymer widely used in many different products. PP is rugged. PP's resin identification code is 5, and it is recyclable.  Product boxes and protection edges are made using corrugated cardboard which can be recycled at depots, in municipal curbside collection programs and through private recyclers.  Internal securing foam blocks are made of PE (Polyethylene Foam) – Recyclable. Polyethylene foam products are 100% recyclable. Plastic bags are made of LDPE (Low-Density Polyethylene) – Recyclable plastic (check Local Authority) LDPE can be recycled. However, check with your Local Authority to ensure it is recycled in your area. This is described as a hard flexible plastic. LDPE's identification code is 4 and it is recyclable. Yellow plastic strapping is made of PET (Polyethylen-terephthalat) – Recyclable. It is fully recyclable and commonly used in logistics. 
Recycled Materials used inside the products:  Studio Titan respects the environment.  When manufacturing products, Studio Titan prefers using raw materials that are mixed with recycled materials to reduce the environmental impact of the products. For the Aluminum components: Vertical column, Horizontal column, Legs, Die cast carriages, base, cap and head-mount plates. The typical percentage of recycled aluminum metal to raw aluminum metal is 70% recycled to 30% raw.  This globally adopted ratio provides good strength and finish.  For the Steel components like: circular or square columns, hardware, casters, gears and counterweight. We have confirmed that the steel is made up of recycled materials combined with raw materials.  We are not able to provide the actual percentage of recycled to raw on these components. Each product uses a different ratio based on its particular end use.