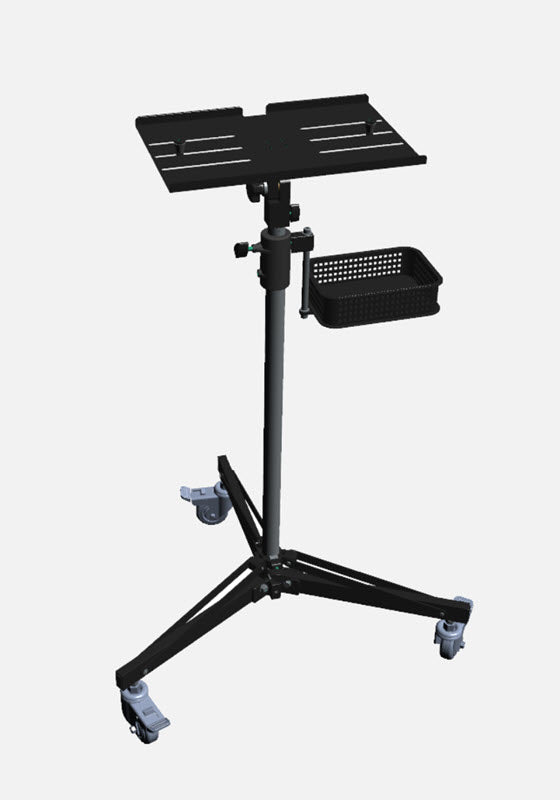 Digital Imaging Work Station Stand STA-06-040
The STA-06-040 Digital Imaging Tray with Rolling Stand is a premium workstation made for industry professionals and engineered for daily use.  It is used when capturing images tethered to a camera. Tethering allows developing and viewing of the images immediately after capture. This workflow guarantees a sharp properly exposed result. It saves time by not having to redo a shoot because of a technical issue that was not easily observed on the cameras monitor.   The Basket conveniently holds the Camera when not shooting.   Designed from the ground up, Studio Titan has researched and re-invented the Digital Imaging Workstation Stand with unique features not found on any other brands.  A Digital Imaging Tray must support and secure hardware.  When Studio Titan researched the market place most Digital Imaging stands were unstable, tipped over easily and the trays do not provide a method of securing hardware while others use velcro.  If you don't want your computer suffering a blunt force trauma then you better pay attention to how it is  secured to the top of the Digital Imaging Tray.  Studio Titan developed a new types of devices that we named the ""conical" and "L" clamp securing system".  This new clamping system allows the Studio Titan Digital Imaging Tray to invert or be positioned upside down and continue to secure your computer to the Digital Imaging Tray.  This gives you a second chance and saves you a second trip to the Apple Store. Can your Digital Imaging Tray do that?  If not, sell it to someone you don't like and invest in an engineered product designed for real world conditions.  The Studio Titan conical clamp securing system consists of two metal conical securing clamps with a rubber perimeter which secures IPADs upto 12.9" pro or MACBOOK upto 16 inch.  The rubber perimeter grips the computer and prevents scratches.  The conical securing clamps can be re-positioned in one of the three clamp slots to prevent obstruction of a port or power connection. The clamp slots also provide increased ventilation, allowing your system to operate optimally reducing the risk of overheating during use. The slots are also used to strain relief cables by looping the cable around the end of the slot. The STA-01-397 Small Digital Imaging Tray is made of steel not flimsy plastic, it's designed with both an upper and lower securing lip. The lower securing lip is covered with a rubber bumper. The STA-01-397 Digital Imaging Tray can be re-configured for portrait orientation for IPAD use. The STA-01-397 Small Digital Imaging Tray provides a user adjustable knob mechanism for angle adjustment, which is not offered by other brands. The angle adjustment provides ergonomic positioning of the keyboard and screen. An additional feature not found on other brands is the basket, which provides convenient safe storage for your camera, light meter, memory cards and mobile phone. The column material is made of STEEL not Aluminum.  Located inside, at the bottom of the vertical column is a rubber bumper that prevents a hard stop when the vertical column is in its lowest position.

Some assembly is required, please review the set-up & use manual.
Includes essential tools required to complete assembly.
Precision-manufactured with attention to detail. 
Premium Dual Stage casters provide easy movement around the studio. The dual-stage foot brake stops both the wheel from rotating and the caster housing from swivelling, preventing unwanted movement.   
• Total Height floor to top of 5/8ths spigot : 140cm / 55 in 
• Working Height Maximum floor to top of Digital Imaging Tray : 145cm / 57 in  
• Working Height Minimum floor to top of Digital Imaging Tray : 100cm / 39.3in
• Total Weight : 8.4kg / 18.5lbs
• Suggested Wheels : 01-090-20-023
• Base Diameter : 80cm / 31.5 in
• Recommended General load capacity : 8kg (17.6 bs)
• Main Outer Vertical Column Diameter : 34.8mm / 1.37 in 
• Secondary Inner Vertical Column Diameter : 30mm / 1.18 in 
• Attachment Hardware: 5/8th spigot with flat
• Includes Basket as shown 
• Securely accommodates : IPAD & IPAD PRO upto 12.9" MACBOOK PRO 13, 15 & 16 Inch Notebooks
• Shelf Approximate overall dimensions : L: 450mm (17.7 in) W: 265mm (10.43 in)
• Shelf Approximate slot dimension : W: 160mm ( 6.3 in) D: W: 10mm (⅜ in)
• Shelf Approximate opening dimension lower securing lip : W: 140mm ( 5 ½ in)
• Includes : Notebook friendly securing clamps with rubber perimeter
• DIT only Weight : 2kg / 4.4 lbs
Studio Titan reserves the right to make product changes and improvements as required. As a result, the product supplied may not be exactly as pictured or specified. 

Intended use:
This product is intended for use by:
1. Professional photographers.
2. Technicians. 
This product is intended for use in a studio, lab or office located indoors on a floor that is smooth, hard, flat and unobstructed.  Please refer to the products set-up and use manual for detailed information regarding intended use, set-up guidelines and instructions.
Assembly Instructions are inside the package. If the assembly instructions are missing or you do not fully understand the instructions stop the assembly and consider the following resources. Visit the "SETUP" area of the website for documentation. Email questions to STA or contact Studio Titan America by phone for further assistance.
Material composition:

The Vertical and Horizontal columns are made of aluminum.  The counterweight is S20C steel.
The nuts and bolts are made of steel.  The casters are polyurethane. This product does not contain lead.
Note: Due to this products large size and specific packaging and handling requirements it is sold as "non returnable". 
PACKAGING with Recyclable Materials:  Studio Titan respects the environment.  When selecting packaging materials, Studio Titan prefers using materials that are recyclable to reduce the environmental impact of its packaging.  The column box blue outer plastic material is Polypropylene, abbreviated as PP, is a recyclable thermoplastic polymer widely used in many different products. PP is rugged. PP's resin identification code is 5, and it is recyclable.  Product boxes and protection edges are made using corrugated cardboard which can be recycled at depots, in municipal curbside collection programs and through private recyclers.  Internal securing foam blocks are made of PE (Polyethylene Foam) – Recyclable. Polyethylene foam products are 100% recyclable. Plastic bags are made of LDPE (Low-Density Polyethylene) – Recyclable plastic (check Local Authority) LDPE can be recycled. However, check with your Local Authority to ensure it is recycled in your area. This is described as a hard flexible plastic. LDPE's identification code is 4 and it is recyclable. Yellow plastic strapping is made of PET (Polyethylen-terephthalat) – Recyclable. It is fully recyclable and commonly used in logistics. 
Recycled Materials used inside the products:  Studio Titan respects the environment.  When manufacturing products, Studio Titan prefers using raw materials that are mixed with recycled materials to reduce the environmental impact of the products. For the Aluminum components: Vertical column, Horizontal column, Legs, Die cast carriages, base, cap and head-mount plates. The typical percentage of recycled aluminum metal to raw aluminum metal is 70% recycled to 30% raw.  This globally adopted ratio provides good strength and finish.  For the Steel components like: circular or square columns, hardware, casters, gears and counterweight. We have confirmed that the steel is made up of recycled materials combined with raw materials.  We are not able to provide the actual percentage of recycled to raw on these components. Each product uses a different ratio based on its particular end use.    
CLICK here for STA 06-040 Digital Imaging Work Station Set-up & Use Manual