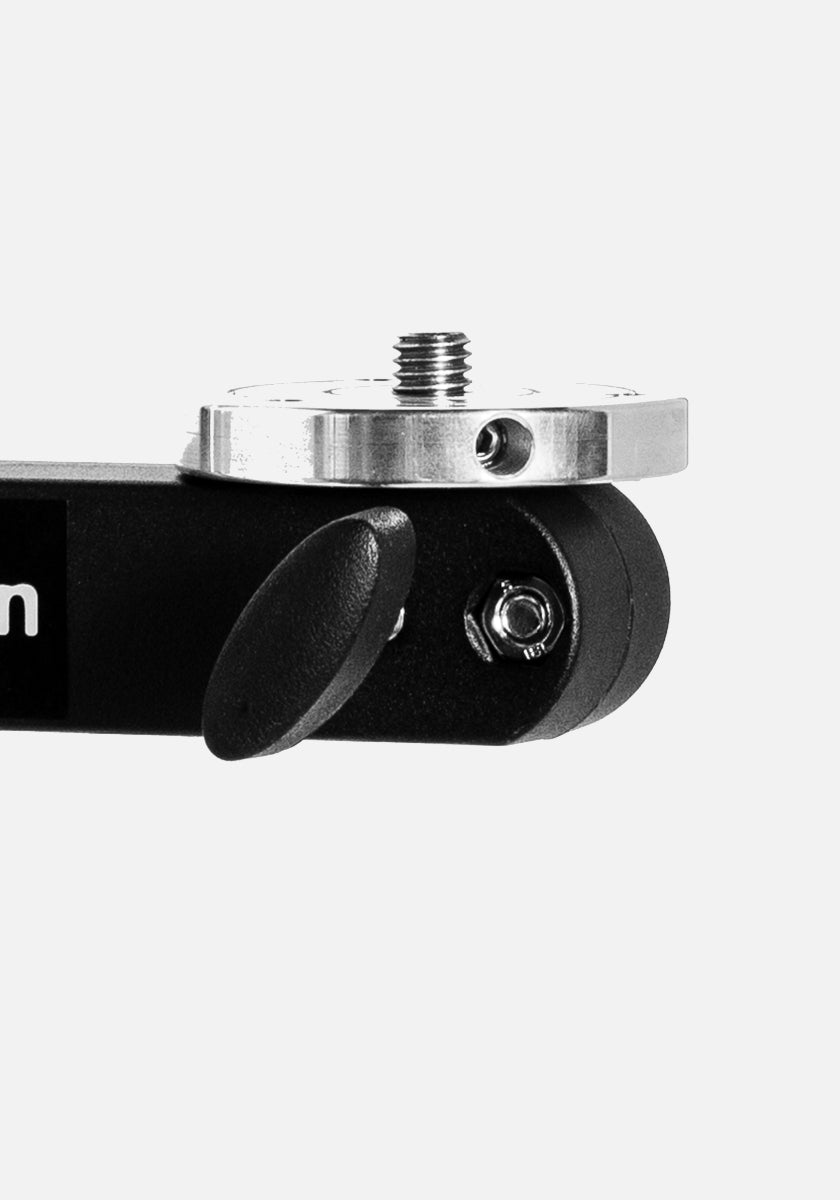 Ball head mounting plate 3/8th thread STA 20-045
Designed specifically for use with the side kick series pistol grip.  It is used in place of the standard spigot and provides a rock solid mounting surface for a ball head with a standard 3/8th thread.  The mounting plate is provided with three brass screws that secure the ball head in place.  Brass screws are used because they provide excellent grip without damaging the bottom of the ball head when securing it.  A flat is machined on one side of the attachment stud to prevent rotation.  When the pistol grip locking knob is tightened onto the flat it secures the attachment stud in place.  It also has one unique feature not found on other brands, which is a set screw in the side of the mounting plate which prevents rotation around the attachment hub.    
• Camera head attachment thread : 3/8th inch - 16 thread 
• Distance from center of side kick vertical column to center of camera head attachment thread:  19 cm / 7.5 inches 
Note: Does not include pistol grip
Studio Titan reserves the right to make product changes and improvements as required. As a result, the product supplied may not be exactly as pictured or specified.   
Materials composition:
-The Pistol Grip is made of aluminum alloy.  The nuts and bolts are made of stainless steel. This product does not contain lead.
PACKAGING with Recyclable Materials:  Studio Titan respects the environment.  When selecting packaging materials, Studio Titan prefers using materials that are recyclable to reduce the environmental impact of its packaging.  The column box blue outer plastic material is Polypropylene, abbreviated as PP, is a recyclable thermoplastic polymer widely used in many different products. PP is rugged. PP's resin identification code is 5, and it is recyclable.  Product boxes and protection edges are made using corrugated cardboard which can be recycled at depots, in municipal curbside collection programs and through private recyclers.  Internal securing foam blocks are made of PE (Polyethylene Foam) – Recyclable. Polyethylene foam products are 100% recyclable. Plastic bags are made of LDPE (Low-Density Polyethylene) – Recyclable plastic (check Local Authority) LDPE can be recycled. However, check with your Local Authority to ensure it is recycled in your area. This is described as a hard flexible plastic. LDPE's identification code is 4 and it is recyclable. Yellow plastic strapping is made of PET (Polyethylen-terephthalat) – Recyclable. It is fully recyclable and commonly used in logistics.