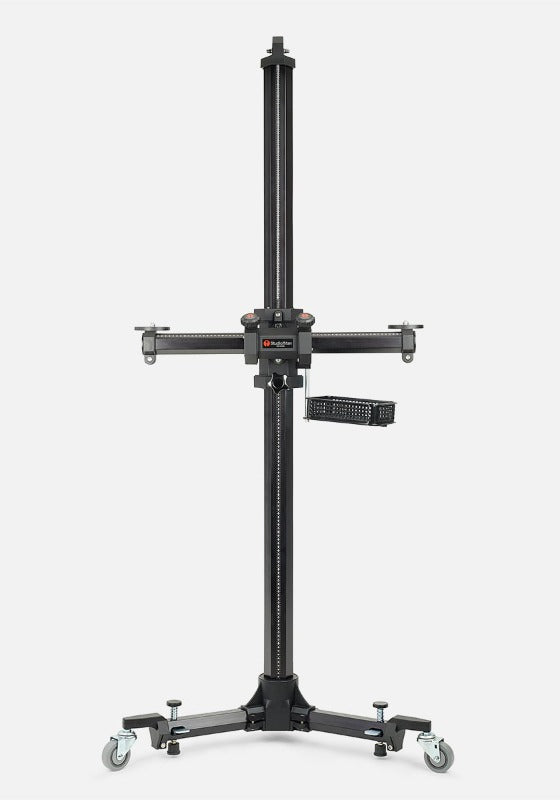 Pre-order - Professional Studio Camera Stand STA-01-360 MK2
Pre-order: This product will be shipped when available
The STA-01-360 MK2 [updated MK2 version] is designed for Professional Photography and optical measurement systems. The STA-01-360 MK2 provides exceptional value.  The STA-01-360 MK2 is our best selling studio camera stand and is a perfect fit for mid-sized studios & E-commerce product studio bays. This stand is categorized as 2-axis, it provides both vertical and horizontal movement of the camera.  Vertical [up/down] travel is provided by the vertical carriage.  Horizontal arm / bar [left/right] extension is provided by the horizontal carriage.  The STA-01-360 Mk2 can also pass through a standard doorway which makes it easy to move between classrooms and labs.   The two supplied Camera Head Mount Plates are user adjustable and provide the following shooting positions:  0 degrees pointing up as supplied, 60 degrees, 120 degrees, 180 degrees pointing down for tabletop photography, 240 degrees and 300 degrees.   
-User positioned vertical carriage with precision smooth motion ball bearings and  secure axis lock with one user brake knob 
-User positioned Horizontal arm / bar carriage with precision smooth motion ball bearings and secure axis lock with two user brake knobs   
-Precision-manufactured with attention to detail using CNC machinery. 
-Counterweight located inside vertical column balances the load and allows single-handed operation. 

-Low center of gravity base with foot-operated brake plungers, quickly secures base and dampens vibrations.  
-High quality bearing casters provide easy movement around the studio.
Some assembly is required, please review the set-up & use manual.
Includes essential tools required to complete assembly.
A unique STUDIO TITAN feature not always found on other Studio Stands is the vertical and horizontal column graduated tape scales.  The measuring scales provide a point of reference which allows the photographer to log and then quickly re-create a previous set-up. 
• Total Height : 192cm / 75.59 in
• Working Height Maximum : 180cm / 70.86 in (measured from Camera Plate to floor)
• Working Height Minimum : 50cm / 19.7 in (measured from Camera Plate to floor)
• Working Width Horizontal - Fully Extended to Left : 55cm / 21.6 in (center of Column to center of Camera plate) 
• Working Width Horizontal - Fully Extended to Right : 55cm / 21.6 in (center of Column to center of Camera plate) 
• Overall Working Width Horizontal - Fully Extended from Left to Fully Extended Right : 110cm / 43.2 in (center of Camera plate to center of Camera plate) 
• Width : 85cm / 33.46 in
• Weight : 30kg / 66lbs
• Suggested Wheels : 01-360-20-024
• Base Diameter : 90cm / 35.4 in
• Recommended General load capacity : 7kg (15.4lbs) 
• Camera Plate Hardware: 3/8th inch - 16 thread
• Includes two Camera Head Mount Plates and Basket as shown
• Caster wheel diameter: 76mm / 3 in 
Options:
-Large accessory shelf STA-01-395 for notebook computer
-Small accessory shelf STA-01-397A for notebook computer
-STA-01-390 3-way head
-STA-01-398 Lowering Plate
Product Updates:
-MK2 version introduced Mar-2021 with the following enhancements:
-50% increase in material wall thickness of the vertical column from 3mm to 4.5mm for increased strength and reduced flex. 
-Added 2 additional securing bolts for a total of 4 bolts on the horizontal bar/arm carriage plate for increased strength.
-Stop pin added to the top of the vertical column preventing the counterweight from over-traveling upwards.
-Increased precision of horizontal and vertical carriage bearing assemblies. Tighter tolerances provides noticeably smoother moving carriages [less play] on both vertical and horizontal columns.

-Updated to higher quality, Grey Wheel Casters mid-2019  
Studio Titan reserves the right to make product changes and improvements as required. As a result, the product supplied may not be exactly as pictured or specified. 
Intended use:
This product is intended for use by:
1. Professional photographers.
2. Technicians and quality control personnel. 
This product is intended for use in a studio, lab or manufacturing environment with a high ceiling, indoors on a floor that is smooth, hard, flat and unobstructed. It is designed to be used at all times with a load (Camera or laptop or both).  Please refer to the products set-up and use manual for detailed information regarding intended use, set-up guidelines and instructions. When assembly is required, we recommend using an assistant during the initial product set-up.
Assembly Instructions are inside the package. If the assembly instructions are missing or you do not fully understand the instructions stop the assembly and consider the following resources. Visit the "SETUP" area of the website for documentation. Email questions to STA or contact Studio Titan America by phone for further assistance.
Material composition:
The Vertical and Horizontal columns are made of aluminum.  The counterweight is S20C steel.
The nuts and bolts are made of steel.  The casters are polyurethane. This product does not contain lead.
Note: Due to this product's large size and specific packaging and handling requirements it is sold as "non-returnable". 
PACKAGING with Recyclable Materials:  Studio Titan respects the environment.  When selecting packaging materials, Studio Titan prefers using materials that are recyclable to reduce the environmental impact of its packaging.  The column box blue outer plastic material is Polypropylene, abbreviated as PP, is a recyclable thermoplastic polymer widely used in many different products. PP is rugged. PP's resin identification code is 5, and it is recyclable.  Product boxes and protection edges are made using corrugated cardboard which can be recycled at depots, in municipal curbside collection programs and through private recyclers.  Internal securing foam blocks are made of PE (Polyethylene Foam) – Recyclable. Polyethylene foam products are 100% recyclable. Plastic bags are made of LDPE (Low-Density Polyethylene) – Recyclable plastic (check Local Authority) LDPE can be recycled. However, check with your Local Authority to ensure it is recycled in your area. This is described as a hard flexible plastic. LDPE's identification code is 4 and it is recyclable. Yellow plastic strapping is made of PET (Polyethylen-terephthalat) – Recyclable. It is fully recyclable and commonly used in logistics.
Recycled Materials used inside the products:  Studio Titan respects the environment.  When manufacturing products, Studio Titan prefers using raw materials that are mixed with recycled materials to reduce the environmental impact of the products. For the Aluminum components: Vertical column, Horizontal column, Legs, Die cast carriages, base, cap and head-mount plates. The typical percentage of recycled aluminum metal to raw aluminum metal is 70% recycled to 30% raw.  This globally adopted ratio provides good strength and finish.  For the Steel components like: circular or square columns, hardware, casters, gears and counterweight. We have confirmed that the steel is made up of recycled materials combined with raw materials.  We are not able to provide the actual percentage of recycled to raw on these components. Each product uses a different ratio based on its particular end use.     
Prop. 65 Warning Labels: For clients who are in the State of California, we have voluntarily added Prop. 65 warning labels to prevent unintentional misrepresentation.  It is our intention to supply products that are not toxic and are compliant with Prop. 65 safe level guidelines.  We require that our vendors also comply with Prop. 65 safe level materials guidelines, but we are not fully in control of the raw material supply chain.