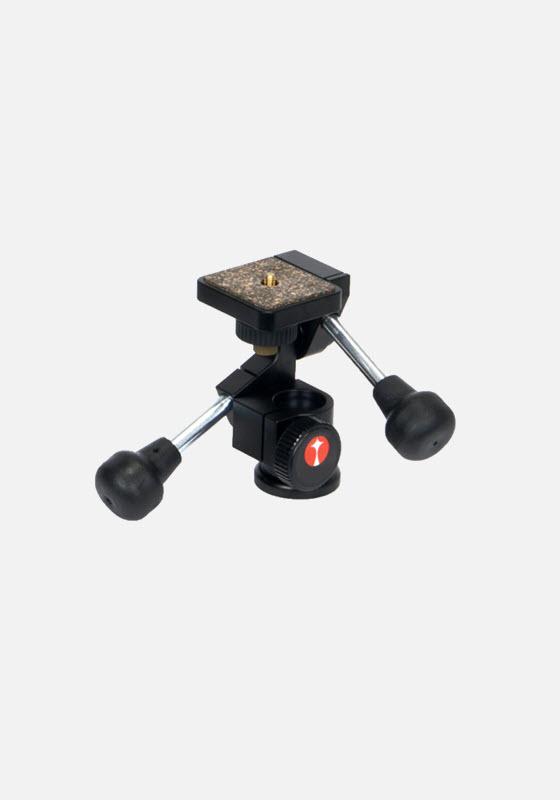 Pre-Order - 3-way camera head STA-01-390
Pre-order: This product will be shipped when available
The "creepless" all-metal STA-01-390 3-way head.  Studio Titan manufactures the STA-01-390 3-way head using "all-metal machined parts" instead of composite materials and plastics which can become brittle, bend and crack overtime.  Cameras or accessories that are compatible with a 1/4"-20 mount can be connected to the oversized top plate which has a non-slip surface. The STA-01-390 3-way head can be mounted to a Camera Stand with the standard 3/8"-16 mounting hardware which is supplied with the camera head mount plate. The STA-01-390 3-way head can be attached to tripods or other support systems that feature a 3/8"-16 mount.  The STA-01-390 studio grade, all-metal head is designed for rapid camera setup and adjustment.  The round ergonomic rubber handgrips are designed to fit comfortably in the palm of your hand.  The rubber hand grips are larger in diameter than other brands which make them more comfortable for daily use.  The oversized rubber hand grips, by the nature of their larger design, amplify the users tightening force, which eliminates creep.   Studio time is valuable and your Camera head should be simple to use and quick to set-up.  The STA-01-390 provides a large permanent camera mounting platform.   The mounting platform does not incorporate a removable plate which eliminates the possibility of a "quick release plate accident".  The two-stage camera securing mechanism does not require special tools to operate.  The first stage knob secures the mechanism to the camera.  The second stage uses an oversized knob to secure the camera to the large mounting platform.  The head can be rotated 360°, tilted 90° forwards or 30° backwards, as well as 90° sideways for portrait orientation.  Each of the three movements function independently of each other.
"Creepless" and why is it important?  Once the imaging equipment is set and the STA-01-390 3-way head head is tightened, it remains in place until the user intentionally moves it.  Other manufacturers heads can creep, ball-heads in particular due the compact design and limitations caused by the friction element that is used against the ball to prevent movement.  Furthermore, heads that provide smaller diameter hand knobs cannot be tightened with adequate force.  Creep is more noticeable when using large diameter prime lenses or longer zoom lenses.  In some cases the photographer may be forced to re-shoot if the creep is severe.     
• Load Capacity :  7kg / 15lbs 
• Base Diameter : 49mm / 1.9 inches  
• Camera Mount Hardware :  1/4 inch - 20 thread
• Camera Head Mounting hole :  3/8th inch - 16 thread  
• Weight :  800g / 28oz
• STA-20-045 Adapter : The STA 20-045 adapter is required when using the STA 01-390 3-way head together with Side Kick Part Numbers: STA-06-090/STA-06-090D/STA-06-093/STA-06/093D camera stands       


Material composition:

The base is made from aluminum.  Hand grips are rubber.
The nuts and bolts are made of steel.  This product does not contain lead.
Studio Titan reserves the right to make product changes and improvements as required. As a result, the product supplied may not be exactly as pictured or specified. 
PACKAGING with Recyclable Materials:  Studio Titan respects the environment.  When selecting packaging materials, Studio Titan prefers using materials that are recyclable to reduce the environmental impact of its packaging.  The column box blue outer plastic material is Polypropylene, abbreviated as PP, is a recyclable thermoplastic polymer widely used in many different products. PP is rugged. PP's resin identification code is 5, and it is recyclable.  Product boxes and protection edges are made using corrugated cardboard which can be recycled at depots, in municipal curbside collection programs and through private recyclers.  Internal securing foam blocks are made of PE (Polyethylene Foam) – Recyclable. Polyethylene foam products are 100% recyclable. Plastic bags are made of LDPE (Low-Density Polyethylene) – Recyclable plastic (check Local Authority) LDPE can be recycled. However, check with your Local Authority to ensure it is recycled in your area. This is described as a hard flexible plastic. LDPE's identification code is 4 and it is recyclable. Yellow plastic strapping is made of PET (Polyethylen-terephthalat) – Recyclable. It is fully recyclable and commonly used in logistics.