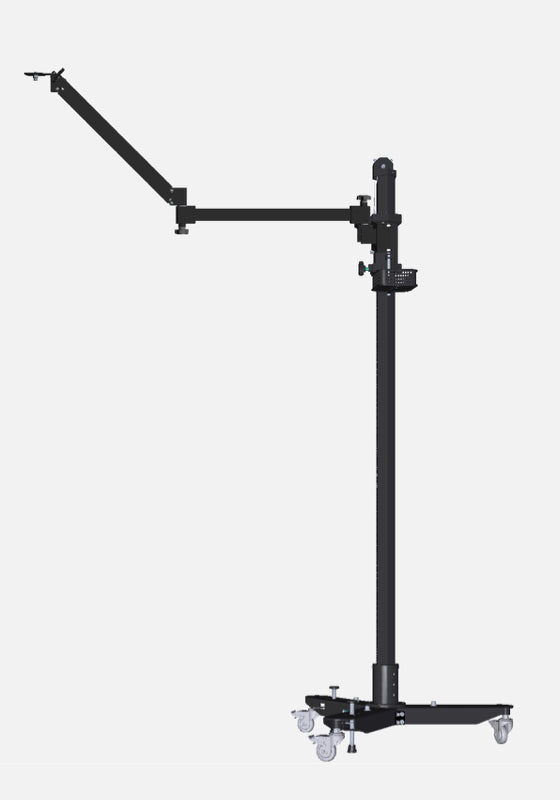 Folding Arm STA-06-105 (Stand not included)
Note: The Stand is for illustrative purposes only.  The STA 06-105 folding arm does not include the stand shown in the images.  
The STA 06-105 folding arm was developed in conjunction with the MET in NYC, USA. The primary design objective was to facilitate 360 photography of large permanent statues and installations using two 180 degree set-ups around the subject.  It is also used for 360 spin photography using one camera in conjunction with a rotary table. Other applications include forensic studies and Industrial Dual Image Correlation applications.  The STA 06-105 folding arm has unique features that make it desirable. It adds a third axis that allows the user to increase the stand's usable vertical and horizontal range of motion in addition to a work envelope in front of the stand.  The camera is easily positioned anywhere within the work envelope while the stand remains stationary and out of the way. The design of STA 06-105 folding arm keeps the head mount plate parallel with the floor as the angle of arm changes, which maintains camera perspective as the arm is moved around the subject. The integrated internal pneumatic counterbalance, is user adjustable. When the camera is counterbalanced it can be moved with little effort, easily and precisely into position. When the user releases the camera it holds its vertical position. 
Compatible Stands (Note*): 
STA 01-350MK2 / STA 01-350RMK2 / STA 01-350MK2-TRI / STA 01-350R-MK2-TRI
Note*: The optional Leg Weight Set STA-01-350LW-15 is also required when the STA 06-105 folding arm is in use.
-Precision-manufactured with attention to detail using CNC machinery. 
-Pneumatic counterbalance located inside the arm balances the load and allows single-handed operation. 
Some assembly is required, please review the set-up & use manual.
Includes essential tools required to complete assembly.
• Total Length of Arm: 162cm / 63.7 in 
• Length of first element : 75cm / 29.5 in (measured from mounting bracket to first joint) 
• Length of second element : 79cm / 31 in (measured from first joint to center of Camera Plate) 
• Maximum vertical travel angle of second electment: upwards 45 degrees & downwards 45 degrees  
• Total Weight of Arm : 8kg (17.6lbs)
• Counterbalance : user adjustable to counterbalance loads upto 5Kg (11lbs)   
• Recommended General load capacity : 5kg (11lbs) (Max Tested Loading: 7kg (15lbs)) 
• Camera Plate Hardware : 3/8th inch - 16 thread 
• Includes Camera Head Mount Plate as shown 


Options:

-STA-01-350LW-15  Leg Weight Set
-STA-01-390 3-way head
Studio Titan reserves the right to make product changes and improvements as required. As a result, the product supplied may not be exactly as pictured or specified.  
Intended use:

This product is intended for use by:
1. Professional and commercial photographers.
2. Technicians and quality control personnel. 
This product is intended for use in a studio, lab or manufacturing environment with a high ceiling, indoors on a floor that is smooth, hard, flat and unobstructed. It is designed to be used at all times with a load (Camera or laptop or both).  Please refer to the products set-up and use manual for detailed information regarding intended use, set-up guidelines and instructions. When assembly is required, we recommend using an assistant during the initial product set-up.
Assembly Instructions are inside the package. If the assembly instructions are missing or you do not fully understand the instructions stop the assembly and consider the following resources. Visit the "SETUP" area of the website for documentation. Email questions to STA or contact Studio Titan America by phone for further assistance.
Material composition:
The Vertical and Horizontal columns are made of aluminum.  Counter weight is S20C steel.
The nuts and bolts are made of steel.  The casters are polyurethane. This product does not contain lead.
Note: Due to this products large size and specific packaging and handling requirements it is sold as "non returnable". 
PACKAGING with Recyclable Materials:  Studio Titan respects the environment.  When selecting packaging materials, Studio Titan prefers using materials that are recyclable to reduce the environmental impact of its packaging.  The column box blue outer plastic material is Polypropylene, abbreviated as PP, is a recyclable thermoplastic polymer widely used in many different products. PP is rugged. PP's resin identification code is 5, and it is recyclable.  Product boxes and protection edges are made using corrugated cardboard which can be recycled at depots, in municipal curbside collection programs and through private recyclers.  Internal securing foam blocks are made of PE (Polyethylene Foam) – Recyclable. Polyethylene foam products are 100% recyclable. Plastic bags are made of LDPE (Low-Density Polyethylene) – Recyclable plastic (check Local Authority) LDPE can be recycled. However, check with your Local Authority to ensure it is recycled in your area. This is described as a hard flexible plastic. LDPE's identification code is 4 and it is recyclable. Yellow plastic strapping is made of PET (Polyethylen-terephthalat) – Recyclable. It is fully recyclable and commonly used in logistics. 
Recycled Materials used inside the products:  Studio Titan respects the environment.  When manufacturing products, Studio Titan prefers using raw materials that are mixed with recycled materials to reduce the environmental impact of the products. For the Aluminum components: Vertical column, Horizontal column, Legs, Die cast carriages, base, cap and head-mount plates. The typical percentage of recycled aluminum metal to raw aluminum metal is 70% recycled to 30% raw.  This globally adopted ratio provides good strength and finish.  For the Steel components like: circular or square columns, hardware, casters, gears and counterweight. We have confirmed that the steel is made up of recycled materials combined with raw materials.  We are not able to provide the actual percentage of recycled to raw on these components. Each product uses a different ratio based on its particular end use.