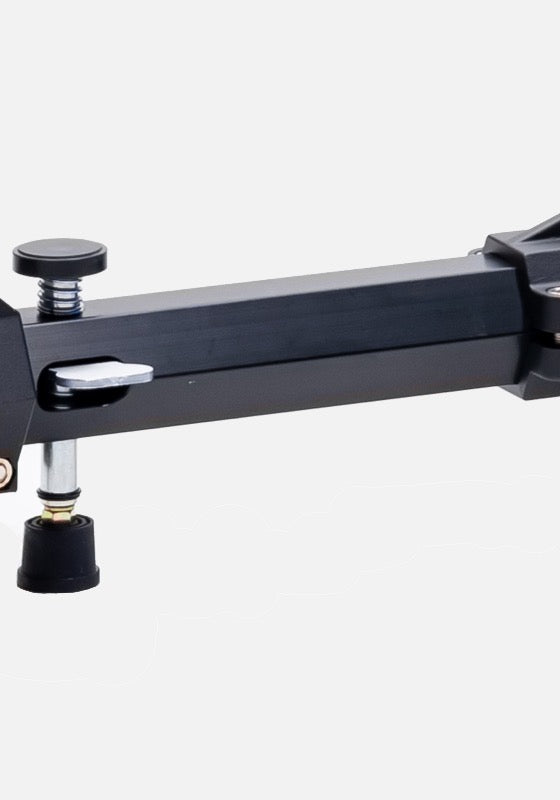 Left leg tube with brake plunger STA-01-360-LLWB
The STA-01-360-LLWB is the Left Leg tube with brake plunger installed, no leg caster housing, no caster.  The STA-01-360-LLWB is compatible with the STA-01-360 series.   By adding a third foot-operated brake plunger in applications where the floor is polished or on a slight angle, it helps to keep the stand in place.  The STA-01-360-LLWB can also be used to update early production STA 01-360 professional studio stands that were supplied without brake plungers.  Please note that this is the Left Leg tube with brake plunger installed.  If you require the Right Leg tube with brake plunger installed it is a special order.  Please contact us by email for pricing and lead time.
• Total Length : 30cm / 11.8 in
• Weight : 0.77kg / 1.7lbs


Studio Titan reserves the right to make product changes and improvements as required. As a result, the product supplied may not be exactly as pictured or specified. 
Follow the STA 01-360MK2 Set-up & Use Manual Assembly Instructions below or Visit the "SETUP" area of the website for documentation. Email questions to STA or contact Studio Titan America by phone for further assistance.
Material composition:
The Vertical and Horizontal columns are made of aluminum.  The counterweight is S20C steel.
The nuts and bolts are made of steel.  The casters are polyurethane. This product does not contain lead.
PACKAGING with Recyclable Materials:  Studio Titan respects the environment.  When selecting packaging materials, Studio Titan prefers using materials that are recyclable to reduce the environmental impact of its packaging.  The column box blue outer plastic material is Polypropylene, abbreviated as PP, is a recyclable thermoplastic polymer widely used in many different products. PP is rugged. PP's resin identification code is 5, and it is recyclable.  Product boxes and protection edges are made using corrugated cardboard which can be recycled at depots, in municipal curbside collection programs and through private recyclers.  Internal securing foam blocks are made of PE (Polyethylene Foam) – Recyclable. Polyethylene foam products are 100% recyclable. Plastic bags are made of LDPE (Low-Density Polyethylene) – Recyclable plastic (check Local Authority) LDPE can be recycled. However, check with your Local Authority to ensure it is recycled in your area. This is described as a hard flexible plastic. LDPE's identification code is 4 and it is recyclable. Yellow plastic strapping is made of PET (Polyethylen-terephthalat) – Recyclable. It is fully recyclable and commonly used in logistics. 
Recycled Materials used inside the products:  Studio Titan respects the environment.  When manufacturing products, Studio Titan prefers using raw materials that are mixed with recycled materials to reduce the environmental impact of the products. For the Aluminum components: Vertical column, Horizontal column, Legs, Die cast carriages, base, cap and head-mount plates. The typical percentage of recycled aluminum metal to raw aluminum metal is 70% recycled to 30% raw.  This globally adopted ratio provides good strength and finish.  For the Steel components like: circular or square columns, hardware, casters, gears and counterweight. We have confirmed that the steel is made up of recycled materials combined with raw materials.  We are not able to provide the actual percentage of recycled to raw on these components. Each product uses a different ratio based on its particular end use.    
Prop. 65 Warning Labels: For clients who are in the State of California, we have voluntarily added Prop. 65 warning labels to prevent unintentional misrepresentation.  It is our intention to supply products that are not toxic and are compliant with Prop. 65 safe level guidelines.  We require that our vendors also comply with Prop. 65 safe level materials guidelines, but we are not fully in control of the raw material supply chain.
CLICK here for STA 01-360MK2 Set-up & Use Manual