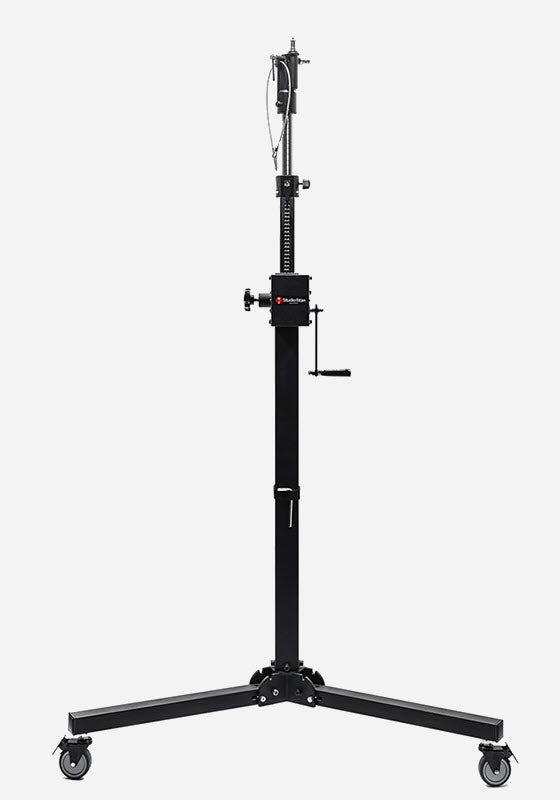 Pre-order: Rack & Pinion Geared Crank Stand STA-06-200
Pre-order: This product will be shipped when available
The STA-06-200 Rack & Pinion Geared Crank Stand with rolling base is a genuine "rack and pinion gear" commercial studio-grade, fail-safe solution.  The STA-06-200 provides a well engineered, budget-friendly product that is accessible to all sizes of studios.
Features & Benefits
The STA-06-200 Rack & Pinion Geared Crank Stand provides a 110 lb lifting load capacity. Compared to a C-Stand, it provides a 5-6x greater load capacity than a C-Stand, which is typically rated for approximately 18-22 lbs.  A typical strobe set-up with parabolic modifier weighs 25-40lbs. A typical HMI Daylight setup can weigh as much as 50-75 lbs.  The STA-06-200 Rack & Pinion Geared Crank Stand enables any operator to independently lift, lower, re-position lighting, safely, quickly, and easily, using only ONE HAND with very little effort.  Everyone who uses C-stands, loves and hates them at the same time.  The STA-06-200 Rack & Pinion Geared Crank Stand reduces hand, elbow, and back fatigue that is typically associated with the unfriendly ergonomics when lifting and lowering, lightning on C-Stands. 

The STA-06-200 Rack & Pinion Geared Crank Stand allows studio lighting to be reconfigured very quickly with minimum effort. The included wheel casters are quickly locked and unlocked by foot. The STA-06-200 Rack & Pinion Geared Crank Stand legs can be folded up quickly, for efficient vertical storage, without special tools.

The STA-06-200 Rack & Pinion Geared Crank Stand mechanism incorporates two separate and independent braking systems. The first system is a mechanical fail-safe disk brake that detects and prevents unwanted downward movement. The second system is a physical brake that locks the column in place which the user engages by turning a knob**.  A safety wire is also supplied and incorporated into the receiver. 
The STA-06-200 Rack & Pinion Geared Crank Stand is manufactured with CNC machinery to ensure accuracy and dependability. The main square tube design was chosen over a round tube for strength. There is more material in a 2" square tube than there is in a 2" round tube of the same wall thickness. The square tube has a stronger beam strength and is also stronger in both compression and tension, making it ideal for lifting and safely holding booms as well as premium strobes, continuous lighting fixtures and large parabolic modifiers.

The heart of the STA-06-200 Rack & Pinion Geared Crank Stand is a chain rack and pinion gear drive mechanism. The CNC manufactured gear system provides smooth movement and many years of reliable use without the need for maintenance.
The low profile rolling base is ideal for use in Studio, underneath furniture, vehicles and low clearance set-ups.
• Maximum Working Height :  284 cm / 112 in / 9.3 ft *
• Minimum Working Height : 130 cm /  51.2 in / 4.2 ft
• Lifting System : Winch Gearbox [chain rack and pinion gear drive]
• Locking System : Internal self-locking Disc Brake in gearbox with additional external user engaged brake
• Lower Column : Square Tube - Width: 6 cm x 6 cm  / 2.36 in x 2.36 in 
• Upper Column : Square Tube - Width: 4 cm x 4 cm  / 1.57 in x 1.47 in
• Diameter of Legs : 110 cm / 43.3 in
• Width when folded : 60 cm / 23.62 in
• Wheels : 3 inch with double locking system
• Material : (Column, Base Plate and Legs): Steel
• Weight : ​19 kg / 41.8 lbs
• Load Capacity : 50 kg / 110 lbs)
• Travel: One Rotation of the hand crank = 9.4cm / 3.7 in of upward / downward travel
• Mounting Receiver Size : Junior & retractable 5/8th Baby / Spigot  

*Current version includes new heavy duty receiver with safety wire and integrated telescoping extension column.  Legs fold upwards parallel with the main vertical column for compact storage.
**Always use the external brake when parking and securing the load  
History

"Rack and pinion gear stands" can be compared to "crank-o-vators" and "ratcheted crank handle stands" which have heavy lifting capacity and have been used by film and television studios for over 30 years. 
Crank Stands use internal ropes or wires [not gears] and do not typically provide an internal fail-safe mechanism. A CABLE type Crank Stand provides a light lifting capacity.
Why does it matter?
Simply said, a genuine "rack and pinion gear" is fail-safe*.  It is designed to enable the operator to lift the load using only one hand and prevent the load from crashing down during normal operation or if the internal mechanism fails.  A "CABLE or Rope type" mechanism can slowly fray and break without warning before the light comes crashing down.  For studios that are concerned with safety and protecting their lighting investment, the STA-06-200 Rack & Pinion Geared Crank Stand is a economical option for consideration. 
Cable type or Wind Up Stands VS Rack & Pinion Geared Crank Stands
Cable type or Wind Up Stands are the most common type of assisted stand. They typically use an internal cable or wire rope wound around a pulley to lift the internal support columns which extend upwards.  Over time, wire cables can stretch, fray, fatigue and break, therefore wind-up stands are not categorized as "fail-safe". 
Geared Crank Stands are designed to be "safe".  The gear system is modelled after a more robust, industrial design where failure modes are taken into consideration. The all-metal chain rack and pinion gearing system used in the STA-06-200 Rack & Pinion Geared Crank Stand provides a superior stand with a high load capacity that is both dependable and safe.
Studio Titan reserves the right to make product changes and improvements as required. As a result, the product supplied may not be exactly as pictured or specified.   Junior to Baby Pin Adapter shown in images for reference not included.
Intended use:
This product is intended for use by:
1. Professional and commercial photographers.
2. Technicians and quality control personnel. 
This product is intended for use in a studio, lab or manufacturing environment with a high ceiling, indoors on a floor that is smooth, hard, flat and unobstructed. It is designed to be used at all times with a load (Camera or laptop or both).  Please refer to the products set-up and use manual for detailed information regarding intended use, set-up guidelines and instructions. When assembly is required, we recommend using an assistant during the initial product set-up.
Assembly Instructions are inside the package. If the assembly instructions are missing or you do not fully understand the instructions stop the assembly and consider the following resources. Visit the "SETUP" area of the website for documentation. Email questions to STA or contact Studio Titan America by phone for further assistance.
Material composition:
The Vertical column and legs are made of steel. The nuts and bolts are made of steel. The gear chain is made of steel. The casters are polyurethane. This product does not contain lead.
PACKAGING with Recyclable Materials:  Studio Titan respects the environment.  When selecting packaging materials, Studio Titan prefers using materials that are recyclable to reduce the environmental impact of its packaging.  The column box blue outer plastic material is Polypropylene, abbreviated as PP, is a recyclable thermoplastic polymer widely used in many different products. PP is rugged. PP's resin identification code is 5, and it is recyclable.  Product boxes and protection edges are made using corrugated cardboard which can be recycled at depots, in municipal curbside collection programs and through private recyclers.  Internal securing foam blocks are made of PE (Polyethylene Foam) – Recyclable. Polyethylene foam products are 100% recyclable. Plastic bags are made of LDPE (Low-Density Polyethylene) – Recyclable plastic (check Local Authority) LDPE can be recycled. However, check with your Local Authority to ensure it is recycled in your area. This is described as a hard flexible plastic. LDPE's identification code is 4 and it is recyclable. Yellow plastic strapping is made of PET (Polyethylen-terephthalat) – Recyclable. It is fully recyclable and commonly used in logistics. 
Recycled Materials used inside the products:  Studio Titan respects the environment.  When manufacturing products, Studio Titan prefers using raw materials that are mixed with recycled materials to reduce the environmental impact of the products. For the Aluminum components: Vertical column, Horizontal column, Legs, Die cast carriages, base, cap and head-mount plates. The typical percentage of recycled aluminum metal to raw aluminum metal is 70% recycled to 30% raw.  This globally adopted ratio provides good strength and finish.  For the Steel components like: circular or square columns, hardware, casters, gears and counterweight. We have confirmed that the steel is made up of recycled materials combined with raw materials.  We are not able to provide the actual percentage of recycled to raw on these components. Each product uses a different ratio based on its particular end use.